Overview of our services
All tractor trailers possess telematics (mobileObjects / Fleetboard). The trailers are used exclusively for the transport of food. The pressure vessels are made from V2A - stainless steel.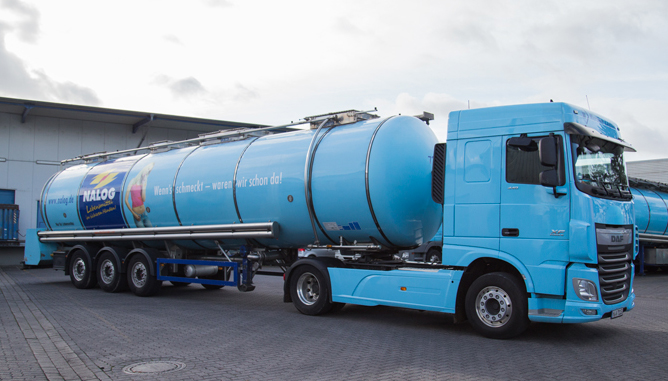 ---
Compartments
1-4 compartments, up to 48 m3 volume.
e.g. 14/20/14 m³, 10/12/12 m³, 9/12/12 m³, 7/20/5 m³, 9/6/5 m³ etc. All chambers can be centrally unloaded towards the back via a fittings cabinet. If necessary several types of products can be delivered at once.



Emptying

InneInboard, mechanical or pneumatic stainless steel floor valves DN 100
Stainless steel butterfly valve DN 100
Clutches also made from stainless steel
Food pump with a stepless adjustable engine
Sterile filter system
Compressor (2 bar)
Possibility of unloading from the side with short outfeed lengths
Heating
Pressure Heater with stainless steel heating jackets in the foot of the container
Insulation
100 mm custom insulation consisting of 50 mm custom mineral wool and 50 mm PUR foam.
All common connectors
Milk thread
TW coupling
Guillemin connectors
30m hose DN 50
At least 5m of hose DN 80
Electric convertors 32A to 16A and 32A to 64A
Food Law Requirements
Complete documentation of carried goods and interior cleaning intervals from acceptance of order until delivery
Declaration of conformity for all parts in direct contact with the produce
All trailers can be completely sealed
---
---
---